Description
Features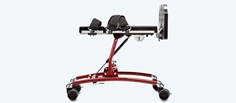 Easy transfer
The Caribou tilts from vertical to horizontal. The horizontal position makes it easier for the caregiver and less stressful for the user to be placed into position. The Caribou is designed with a raised frame for easy use of floor hoist.
Anatomic design and soft mouldable PU
New and soft PU material for optimum comfort. The shape can be moulded to the body using additional wedges to shape the PU. The Caribou is designed with smooth edges for better safety and it is easy to clean.
Interchangeable accessories makes for optimal solutions
Accessories are easily interchangeable for carers convenience.
Easy tilt
The Caribou is supplied with an easy tilt mechanism, which allows the caregiver to have both hands free.
Specifications